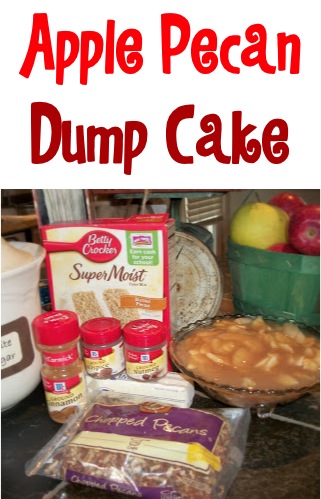 Ingredients
:
Butter Pecan Cake Mix
5 cups Apple Pie Filling (I make my own but if you want to use canned, you will need 2-21oz. cans)
1 teaspoon cinnamon
1/2 teaspoon nutmeg
1/4 teaspoon allspice
1 1/2 cups chopped pecans
1 1/2 sticks (3/4 cup) margarine or butter
Directions
:
Preheat oven to 350 degrees.
Pour Apple Pie filling into the bottom of a 9×13 pan.
In a small bowl, mix cinnamon, nutmeg, and allspice.
Then sprinkle the spices on top of the apple pie filling.
Pour the Butter Pecan Cake Mix on top of the spices.
Cut the butter and place small pieces over the top of the cake mix. Be sure to cover as much of the cake mix as possible. This will soak into the mix and make a yummy topping.
Pour the chopped pecans on the top.
Bake in a 350 degrees oven for 45 minutes to an hour or until the top is a nice golden brown and the sides are bubbling. (Mine takes closer to an hour, but every oven is different.)
Enjoy warm with ice cream or whipped cream.
Source: thefrugalgirls.com