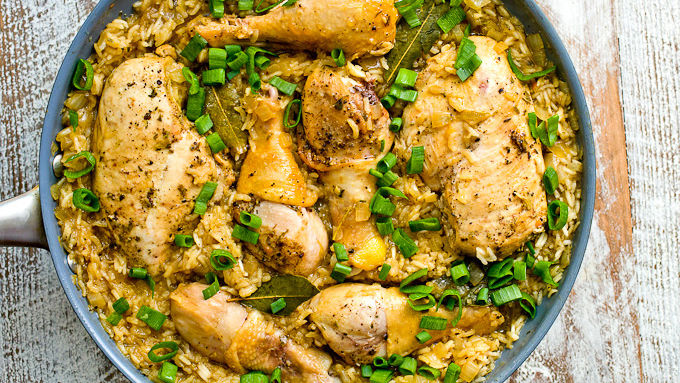 Classic jerk chicken flavors in an easy-to-make one-pot meal!
Ingredients:
1

cup jasmine rice
3

pounds chicken, drumsticks and breasts or thighs
4

scallions
4

cloves garlic
2

tablespoons fresh ginger
2-3 habanero peppers, seeded
2

tablespoons brown sugar
2

limes, juice only
1

tablespoon fresh thyme
2

teaspoons ground allspice
1/2

teaspoon ground nutmeg
1/2

teaspoon salt
2

tablespoons soy sauce
1/4

cup canola oil
1/2

white onion, diced
2 1/2

cups chicken stock
4

bay leaves
Scallion, for garnish
Directions:
Rinse rice in a mesh strainer with cold water. Set aside.



In a mini food processor, add scallions, garlic, ginger, habanero peppers, brown sugar, lime juice, thyme, allspice, nutmeg, and salt. Pulse until combined into a paste.

In a medium bowl, add the spice paste, soy sauce, oil, and chicken. Mix well and let sit for at least 30 minutes or overnight.

Heat a large skillet with high walls over medium-high heat. Add chicken pieces and let cook for 7-8 minutes until they start to brown. Turn chicken pieces and cook for another 4-5 minutes. Remove chicken from skillet and turn heat down to medium-low. It's okay if the chicken isn't cooked through at this point.

Add onions to the skillet and cook them for a few minutes, scraping up any bits stuck to the pan.

Add rinsed rice to the skillet along with chicken stock and stir to combine. Bring mixture to a slight simmer, turn heat down to low, and nestle chicken pieces back into the skillet along with bay leaves. Cover skillet and simmer for 20-25 minutes until rice is cooked and liquid is evaporated.

Check the skillet occasionally and if it is dry, add more stock.

Serve chicken and rice with fresh chopped scallions.
The template DoubleClickAd could not be loaded. HTTP Status code: 0
Step By Step
A one-pot meal that brings some serious flavor!
Let's get this out of the way right away: Authentic jerk chicken is almost impossible to replicate at home. It involves a very specific kind of grill and wood and is just one of those things. But, that doesn't mean that we can't pay
homage
to the delicious traditionally Jamaican dish by bringing the flavors into the kitchen for a much quicker and more realistic one-pot chicken and rice dish!
Since we are taking some necessary shortcuts on the cooking, let's not take shortcuts on the rub. I like to use fresh, real herbs and aromatics for my jerk rub. This means fresh peppers, garlic, ginger, scallions, thyme, and limes.
When dealing with the spicy peppers, remember to remove the seeds and stem and
wash your hands
well after you are done!
Add these things to a small food processor along with allspice, nutmeg, sugar, and salt and process it until it's in a coarse paste.
Combine that spicy paste with the soy sauce and oil in medium bowl and coat the chicken well with the spice rub. Let this all marinate together for at least 30 minutes but overnight would be ideal.
When you're ready to cook, add the chicken to a large high-walled skillet over medium-high heat and brown the chicken on all sides for 7-8 minutes. The goal here isn't to cook the chicken completely, but just give it some color.
Then remove the chicken pieces and add the onion. Use the onion to scrape up any bits stuck to the pan. Then add the rice (rinse it first with cold water) and chicken stock. Stir that all together and bring the mixture to simmer.
Nestle the chicken pieces back in the skillet along with a few bay leaves. Turn the heat down to low, cover the skillet with a lid, and let it simmer for about 20 minutes until the rice is cooked.
Check the skillet occasionally and if it seems really dry, add more stock.
Serve the finished chicken and rice dish with fresh scallions. It's just spicy enough to wake up your taste buds and it's all in one pot so clean up is easy!
Nick thinks you'd have to be a jerk to not share this jerk! Check out his blog,
Macheesmo
, and follow him on
his Tablespoon profile
.
Go to their website to find ore wonderful recipes just like this one.
Source: tablespoon.com