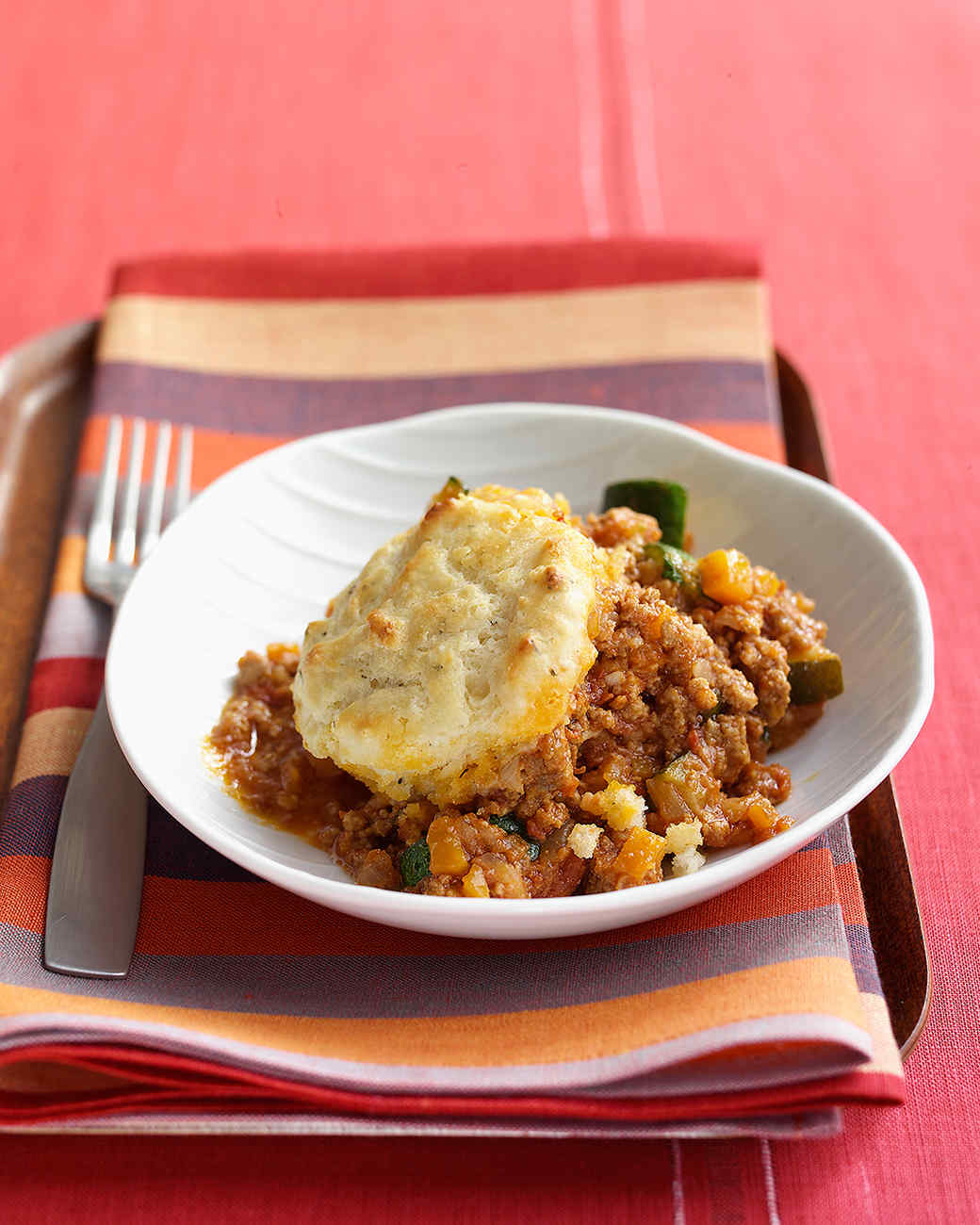 Ingredients:
For the Meat Bas
2 teaspoons olive oil
1 pound medium zucchini, quartered lengthwise, cut crosswise into 3/4-inch chunks
4 cups leftover sauce from Spaghetti with Bolognese Sauce
For the Biscuit Topping:
1 cup all-purpose flour (spooned and leveled)
1 1/2 teaspoons baking powder
1/4 teaspoon dried thyme
1/2 teaspoon salt
3 tablespoons cold unsalted butter, cut into small pieces
3/4 cup milk
1/2 cup finely grated Parmesan cheese (about 2 ounces)
Directions:
Preheat oven to 425 degrees. Make the meat base: Heat oil in a 10-inch ovenproof skillet over medium-high heat. Add zucchini; cook, stirring, until golden and just beginning to soften, 4 to 5 minutes. Stir in leftover Bolognese Sauce until warmed through, about 3 minutes. Cover to keep warm.

Make the biscuit topping: In a large bowl, whisk together flour, baking powder, thyme, and salt. Using a pastry blender, a fork, or your fingers, work in butter until pea-size clumps form. Stir in milk and cheese until dough just comes together.

Spoon dough over beef mixture in 8 small mounds, about 1 inch apart. Bake until meat mixture is bubbling and topping is golden brown (a toothpick inserted in center of a biscuit should come out clean), about 25 minutes. Serve immediately.
Cook's Notes:
If you want to prepare the biscuit dough in advance: Mix the dry ingredients together, cut in the butter and refrigerate the biscuit mixture (up to several hours). When you're ready, add the milk and cheese, and proceed.
Source: marthastewart.com