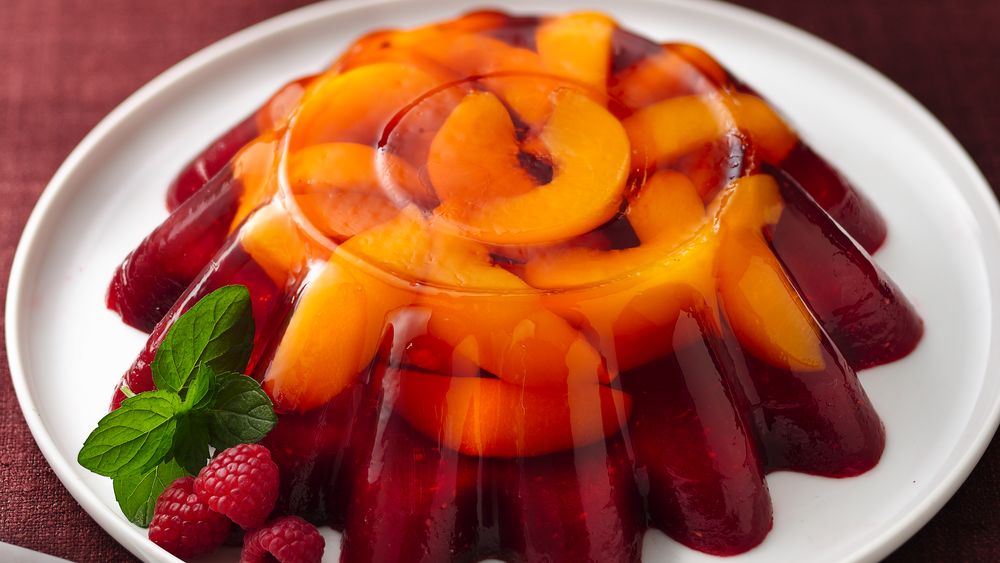 Looking for a wonderful fruit dessert? Then enjoy this colorful gelatin based salad made with peaches and raspberries.
20

min

prep time

8

hr

20

min

total time

8

ingredients

10

servings
Ingredients:
Directions:
In medium bowl, pour 1 cup boiling water over peach gelatin; stir until gelatin is dissolved. Add 3/4 cup ginger ale. Chill until slightly thickened, about 1 hour.

Lightly brush 5-cup mold or 1 1/2-quart bowl with vegetable oil. Spoon 1 inch layer of peach gelatin into mold. Arrange peach slices over gelatin. Spoon remaining peach gelatin on top. Refrigerate until set but not firm, about 1 hour.

In blender or food processor, place raspberries. Cover; blend on low speed 5 to 10 seconds or until smooth. Press through strainer to remove seeds. Add enough additional ginger ale to raspberries to measure 3/4 cup.

Meanwhile, in medium bowl, pour 1 cup boiling water over raspberry gelatin; stir until gelatin is dissolved. Stir in raspberry mixture; let stand until room temperature, about 20 minutes. Spoon raspberry mixture over peach gelatin layer. Cover and refrigerate at least 6 hours but no longer than 24 hours.

To unmold salad, quickly dip the mold, almost to the top, into warm (not hot) water for several seconds. Loosen edge of salad with tip of knife, then tip mold slightly to allow air in and to break vacuum. Rotate mold so all sides are loose. Place serving plate brushed lightly with water upside down on top of mold (the water will let you move gelatin on plate in case it doesn't come out in the center.) Holding both mold and plate firmly, turn mold upside down and shake gently. Carefully lift mold off gelatin. If gelatin doesn't come out, repeat steps. Refrigerate salad until serving. If using decorative bowl, do not unmold; scoop salad from bowl to serve.
Source:
pillsbury.com