How scrumptious does this Chicken Pot Pie Crescent Braid look and it's sure to be a hit in your home! It's packed full of flavor and a new twist on a family favorite. What are you waiting for? Whip one up today!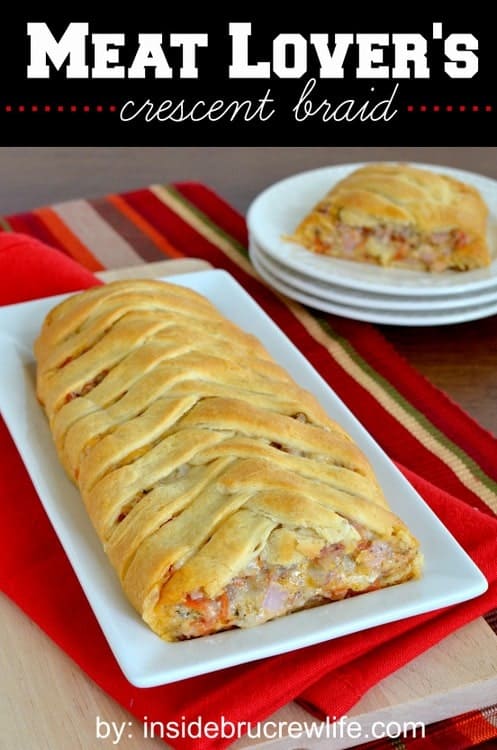 Crescent rolls filled with a cheese and meat mixture.
Ingredients
:
1 roll refrigerated crescent rolls (I use Pillsbury)
4 ounces cream cheese, softened
1/2 cup cooked, crumbled sausage
3/4 cup shredded mozzarella cheese
3/4 cup shredded cheddar cheese
3/4 cup crumbled bacon
1/2 cup chopped ham
1/2 cup diced pepperoni
1 teaspoon pepper
1 teaspoon dried oregano
1 cup pizza sauce
Directions
:
Combine the cream cheese, shredded cheese, all the meats, pepper, and oregano in a bowl and stir until creamy. Set aside.
Open the crescent rolls onto a baking sheet. Press all the seams together to form a large rectangle. On either side cut strips about 1 inch apart. Leave a large section in the middle. Spoon the filling down the middle. Cross the strips over the top of the filling one at a time, crossing each other to form a braid.
Bake the crescent braid at 375* for 20 minutes. Let cool slightly before serving with pizza sauce. Cut into 8 slices. Serves 3-4.
Source: insidebrucrewlife.com