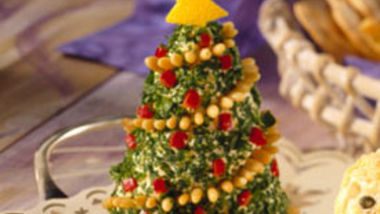 Enjoy this creatively made cheese spread - a delicious appetizer perfect for Christmas celebration.
Ingredients:
3

packages (8 ounces each) cream cheese, softened
4

cups shredded Cheddar cheese (16 ounces)
2

tablespoons pesto
1

tablespoon grated onion
1/4

teaspoon ground mustard (dry)
2

or 3 drops red pepper sauce
Have ready at serving time:
1/4

cup finely chopped parsley or cilantro
1/4

cup pine nuts
2

tablespoons chopped red bell pepper
Assorted crackers, if desired
Directions:
1

Mix cream cheese and Cheddar cheese; divide in half. Mix pesto into 1 half; mix onion, mustard and pepper sauce into other half. Cover each half and refrigerate about 4 hours or until firm enough to shape.

2

Place cheese mixtures on cookie sheet. Shape each half into cone shape to look like Christmas tree. Roll trees in parsley, pressing parsley evenly onto trees. Press pine nuts onto trees in string form for garland. Press bell pepper pieces onto trees for ornaments. Top each tree with star shape cut from lemon peel if desired. Serve with crackers.
Source:
bettycrocker.com