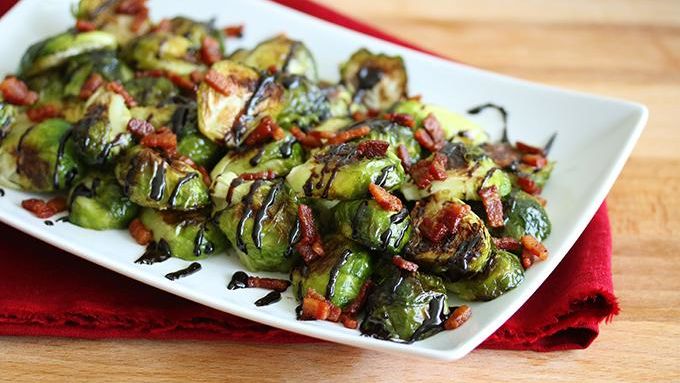 Candy-like homemade balsamic vinegar reduction drizzled over grilled Brussels sprouts and sprinkled with savory bacon. Brussels sprouts the way they were Meant to be eaten.
Ingredients:
1 1/2

pounds fresh Brussels sprouts (outer leaves discarded, bottom stems trimmed), cut in half
3

tablespoons extra virgin olive oil
Salt
Freshly ground black pepper
1/3

cup good quality aged balsamic vinegar
4

slices thick-cut bacon, cooked and crumbled
Directions:
Preheat the oven to 400ºF. If using a grill, preheat it to medium-high.

Lay the Brussels sprouts in a single layer on a non-stick or lined baking sheet. Drizzle a couple tablespoons of extra virgin olive oil over the sprouts, sprinkle with some salt and freshly ground black pepper, and toss to evenly coat. Place the baking sheet on the top oven rack and roast for 16-20 minutes or until nicely browned.If using a grill, preheat to medium-high. Place the Brussels sprouts on a grill rack and grill for 8-10 minutes on each side.

While the Brussels sprouts are roasting, place the balsamic vinegar in a very small saucepan and bring it to a boil. Reduce the heat to medium-low and simmer uncovered for about 15 minutes or until it is thickened and lightly coats a spoon.

Arrange the Brussels sprouts on a serving platter, drizzle with the balsamic vinegar reduction and sprinkle with the crumbled bacon. Serve immediately.
Source: tablespoon.com