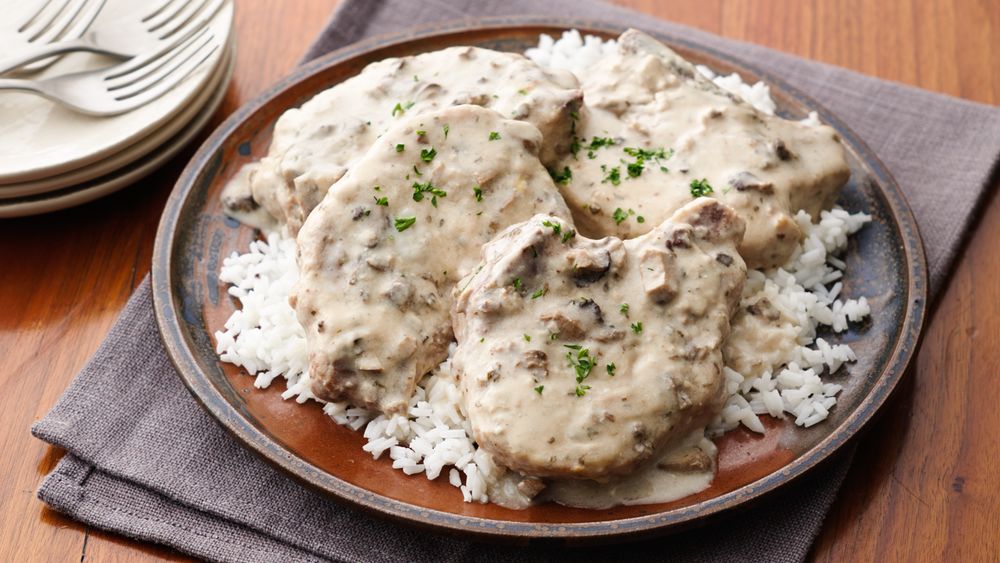 Made with only four ingredients, this super-easy slow-cooker version of pork chops will become your new favorite pork chop recipe! It only takes 10 minutes to prepare, and your slow cooker does the rest of the work. This, plus family-friendly flavors like ranch and creamy mushroom soup make it the perfect meal to add to the weeknight dinner rotation.
Ingredients:
4

bone-in pork loin chops (2 lb)
1

package (1 oz) ranch dressing and seasoning mix
1

can (18 oz) Progresso™ Vegetable Classics creamy mushroom soup
2

tablespoons cornstarch
Directions:
1

Spray 3 1/2- to 4-quart slow cooker with cooking spray. Sprinkle both sides of pork chops with ranch dressing mix. Place pork chops in slow cooker. Pour soup over pork chops.

2

Cover; cook on Low heat setting 5 to 6 hours or until fork-tender. Remove pork chops from slow cooker, and place on plate; cover to keep warm.

3

In small bowl, stir cornstarch and 2 tablespoons water until well blended; stir into mushroom sauce in slow cooker. Cook on Low heat setting 3 to 5 minutes or until thickened. Serve over pork chops.
Expert Tips:
Serve over rice.
Garnish with chopped fresh parsley.
For the best flavor, look for pork chops that are about an inch thick. Bone-in chops tend to contain more fat and therefore are more flavorful. They're also less prone to overcooking.
Source
:
pillsbury.com