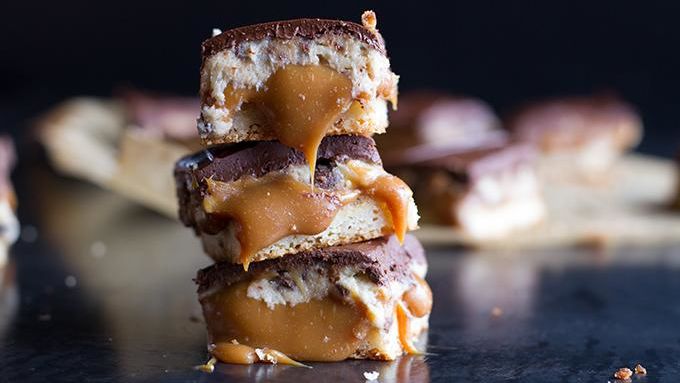 They're rich alright! With a baked cookie base and layers of creamy caramel, almond cookie dough, and a chocolate-peanut butter top, you'll be glad you don't need to be a billionaire to enjoy them!
Ingredients:
Cookie Base:
1

(17.5 ounce) pouch Betty Crocker™ sugar cookie mix
1

whole egg
1/2

cup (1 stick) unsalted butter, softened to room temperature
Caramel Layer:
1

(14 ounce) bag caramels
1/2

cup heavy cream
Cookie Dough Layer:
3/4

cup (1 1/2 sticks) salted butter, softened to room temperature
2/3

cup brown sugar
2

tablespoons heavy cream
1 1/2

teaspoons vanilla extract
2

cups raw slivered almonds, ground in food processor or blender to a fine flour
1/4

teaspoon salt
3/4

cup mini semisweet chocolate chips
Chocolate Top:
1 1/2

cups regular semisweet chocolate chips
1/4

cup creamy peanut butter
Directions:
Preheat the oven to 375ºF. Grease a 9x13-inch baking dish with cooking spray or line with parchment paper.

COOKIE BASE: Prepare the cookie mix according to package directions. Add the egg and butter, beat until creamy and a dough has formed. Press the cookie dough into the bottom of the prepared baking dish. Bake at 375ºF for 10-14 minutes, or until golden brown. Remove and let cool slightly.
CARAMEL LAYER: While the cookie base is baking, combine the caramels and cream in a saucepan over low heat. Let melt, stirring occasionally until smooth, about 10 minutes. Pour over the cookie layer and let cool completely, about 10 minutes.
COOKIE DOUGH LAYER: To the bowl of a stand mixer or large bowl add the softened butter, brown sugar, cream and vanilla. Beat until combined, fluffy and light in color. Beat in the almond flour and salt until combined. Stir in the mini chocolate chips. Spread the cookie dough over the caramel layer, be careful not to press too hard into the caramel. You don't want to mix the two layers. Place in refrigerator to set.
PB-CHOCOLATE TOP: Melt 1 1/2 cups chocolate chips with 1/4-cup peanut butter in a saucepan, or just microwave them, pour over caramel and spread until even. Let cool and harden completely in the refrigerator.

Refrigerate for at least one hour or more before serving. Cut bars and serve. Cover leftovers and store in refrigerator.
Source;
tablespoon.com