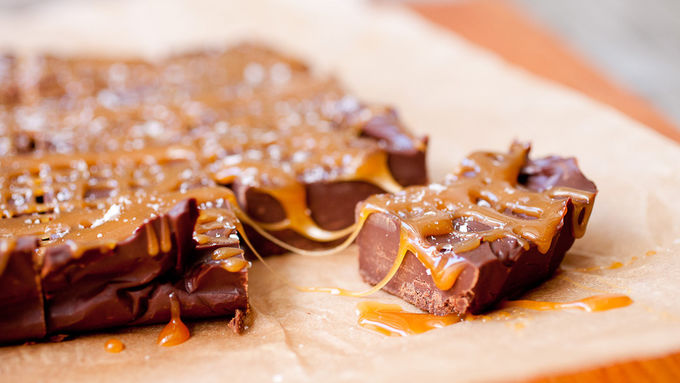 An easy fudge topped with delicious bourbon caramel and flaky sea salt!
Ingredients:
Fudge:
1

(14 oz.) can sweetened condensed milk
1

pound bittersweet chocolate
1 1/2

teaspoons ground cinnamon
1

teaspoon vanilla extract
3

tablespoons unsalted butter
Coarse sea salt, for garnish
Bourbon Caramel:
1

cup sugar
1/4

cup water
1/2

cup heavy whipping cream
1

tablespoon bourbon
Directions:
Line an 8 x 8-inch baking dish with butter and parchment paper (butter helps the parchment paper stick).



In a medium-sized metal bowl, combine all fudge ingredients except butter and salt. Set bowl over a simmering pot of water (not touching the water) and stir mixture until it's melted. It should be really smooth and glossy.

Fold butter into the fudge mixture until it's an even consistency and scoop mixture into the parchment-lined baking pan. Smooth it out and chill fudge until it's set, at least 2 hours.

For caramel, add sugar and water to a small pot over medium-low heat. Swirl the mixture together to help dissolve sugar. Don't stir the mixture at any point.

Cook caramel, swirling occasionally, until mixture is bubbling and the sauce turns a medium tan color, about 15 minutes.

When the caramel is the desired color, remove it from the heat and gently stir in cream (it'll bubble like crazy but just keep stirring). Then stir in bourbon.

Let caramel sauce cool.

When fudge is chilled, remove it from the baking sheet and peel off parchment paper. Then chop fudge into 16 even pieces and drizzle heavily with bourbon caramel. Sprinkle fudge with flaky sea salt. Try not to eat it all at once!
Source: tablespoon.com