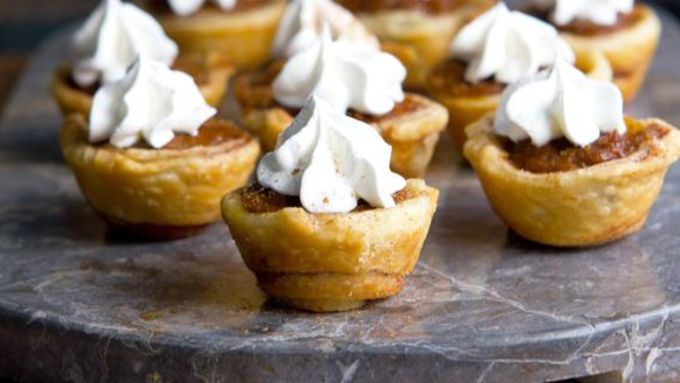 Turn a simple pie crust into a cinnamon roll pie crust, top it with pumpkin pie filling, and discover how delicious life is in miniature.
Ingredients
:
1

box Pillsbury™ Refrigerated Pie Crust
2

tablespoons butter, melted
1

teaspoon cinnamon
10

tablespoons sugar
1 1/4

cup pumpkin puree
1

large egg
1/2

tablespoon cinnamon
Whipped cream for garnish, if desired
Directions
:
Preheat oven to 400°F.

Unroll the Pillsbury™ pie crusts, use a basting brush to coat one side with melted butter, sprinkle with cinnamon and 2 tablespoons of sugar per pie crust.

Roll pie crust back into a log. Cut into 3/4 pieces.

Spray two 12-count mini muffin tins with nonstick cooking spray. Press the cut pieces of pie into the bottom of each cup, pressing with your thumb to move the cinnamon swirl all the way up the sides of the muffin cup, and making a well in the center of the muffin cup.

In a medium bowl, whisk together remaining sugar, pumpkin puree, cinnamon, and egg until smooth and well combined. Spoon mixture into the center of each cinnamon-roll crust.

Bake in oven for 12-18 minutes, or just until the edges of the crust have turned a light golden brown.

Allow to cool slightly before removing mini pies from the muffin tins. Top with whipped cream, if desired.
Source: tablespoon.com